News
---
 NOVEMBER
---
Youth Marketing Strategy BLN 2017 @ Glashaus | 23.11.2017
---
Following the success of YMS London & New York Voxburner are proud to bring you YMS17 Berlin. A must-attend event for
anyone working in the youth market, looking to understand and reach this ever changing demographic. YMS offers the latest
insights, freshest ideas and invaluable networking opportunities. You'll come away filled with inspiration, ready to drive your
marketing strategies forward.
For further infomation: Website | Tickets | Facebook Glashaus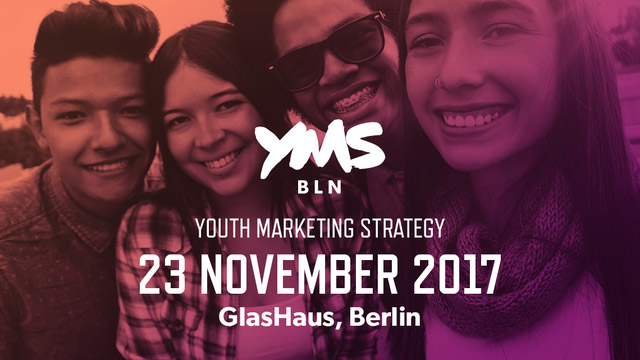 ---
Stützpunkt w/ Stanislav Tolkachev, Mørbeck & Under Black Helmet @ Arena Club | 24.11.2017
---
Stützpunkt is back at Arena Club after a couple of summer home games. So of course we had to put together a proper lineup to
celebrate our return.
LINE UP:
Stanislav Tolkachev
Mørbeck b2b Under Black Helmet
S VЛ Т
Nostitz b2b Karschau
For further information: Facebook Event | Resident Advisor | Facebook Arena Club

---
DEZEMBER
---
TechCrunch Disrupt Berlin 2017 @ Arena Halle | 4. & 5.12.2017
---
TechCrunch Disrupt is the world's leading authority in debuting revolutionary startups, introducing game-changing technologies
and discussing what's top of mind for the tech industry's key innovators. Disrupt gathers the best and brightest entrepreneurs,
investors, hackers, and tech fans for on-stage interviews, the Startup Battlefield competition, a 24-hour Hackathon, Startup Alley,
Hardware Alley, and After Parties.
For further information: Facebook Event | Tickets | Facebook Arena

---
Sonntagsinstitut x Cases of Madness @ Arena Club | 10.12.2017
---
Das Institut eures Vertrauens widmet sich seiner Bestimmung: Feiern am Sonntag! Wir starten die Veranstaltungsreihe
"Sonntagsinstitut x" – eine familiäre Afterhour im Arena Club mit wechselnden Partner*innen, die verschiedene Facetten von
Techno repräsentieren.
The Sonntagsinstitut collective does what they can do best: parties on Sunday! "Sonntagsinstitut x" is a colloquial afterhour at
arena club in collaboration with varying collectives and labels that represent different facets of techno.
For further information: Facebook Event | Resident Advisor | Facebook Arena Club